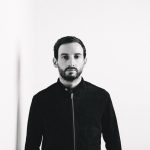 Global streaming platform, On Air, announced the online release of London-based electronic producer Max Cooper's immersive film, available to stream for the first time. The audio-visual project, Unspoken Words, has been mastered in Dolby Atmos® surround sound for a truly immersive experience that puts the viewer at the heart of Cooper's vision just as he intended.   
Unspoken Words is a visual story which unfolds through 13 short films by a range of visual artists, commissioned by Max Cooper, and under his creative direction. These combine to form a meditative metanarrative on the artists' internal battle for expression, and an individual's communal journey to find their place in the world.
"The project took on a whole new level of communication potential and intensity, with extra effects and sound design unique to the Atmos experience synced to the videos," says Cooper. "It was an experiment in using the tools of cinema in the context of music and pushing the spatial experience to extremes at points."
Later this week during electronic music conference, ADE, Cooper will be presenting an immersive live performance on the 20th of October. In collaboration with Dolby and Phillips, clips from Unspoken Words will be featured in a demonstration of the Amilight TVs.
Unspoken Words will be available to watch on demand for six months on the On Air platform. Streaming in Dolby Vision® and Dolby Atmos®, viewers will be drawn through Cooper's experiences of escapism and connection with personal stories of reflection, acceptance, grappling, idealism and rejection.
You can read more about it and purchase the show for £8.99 in HD / Stereo or £12.99 with Dolby Vision® and Dolby Atmos® here: https://onair.events/max-cooper-unspoken-words