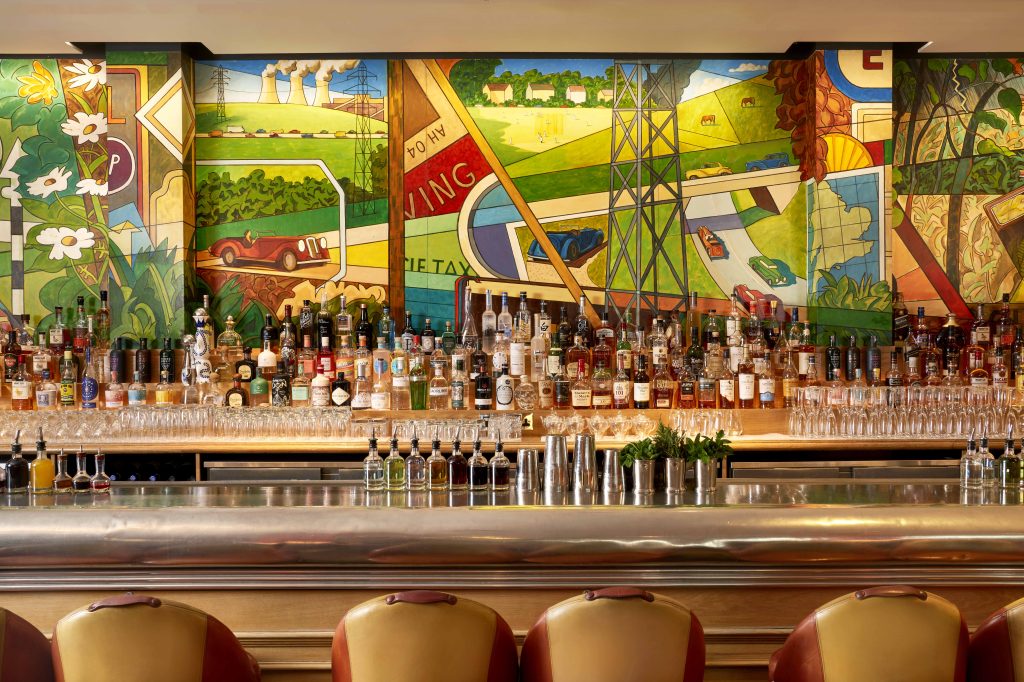 Firmdale, proud owners of London's Soho Hotel, and Mangrove Global are bringing the best of British Bars to the 'Big Smoke' this Autumn with a series of evening activations. And the best part is – each of the bars in question are crafting cocktails using spirits from the Mangrove portfolio. Running over four nights, from 31st October through to 3rd November, 'Bars of Britain' will welcome Edinburgh's Bramble, the Lake District's Henrock, Cornwall's CiCi's Bar, and Cardiff's LAB22 to host a one-night takeover of 'Refuel' the hotel's chic and spacious bar and restaurant.
Nick Gillett, Managing Director of Mangrove Global, says:
"This activation is an opportunity to sample some of the different experiences offered by some of the best bars in the country. All within the spectacular setting that is the Soho Hotel.
"Each of these bars are proud purveyors of the Mangrove portfolio, so be sure to book your spot to sample some seriously impressive liquids from some seriously impressive bartenders."
The selected bars have been carefully chosen as 'thoughtful, innovative local haunts' that will resonate with the discerning tastes of London's liquor lovers. Exemplifying the great taste of the bars in question, cocktails will feature Mangrove brands such as Portobello Road, East London Liquor Company, Avallen, Aluna, and Stauning – a great display of the quality liquids within the premium portfolio. During each takeover, the bar will present a signature serve alongside a signature snack, and guests will also be able to enjoy Refuel's ever-popular British-inspired bar snacks.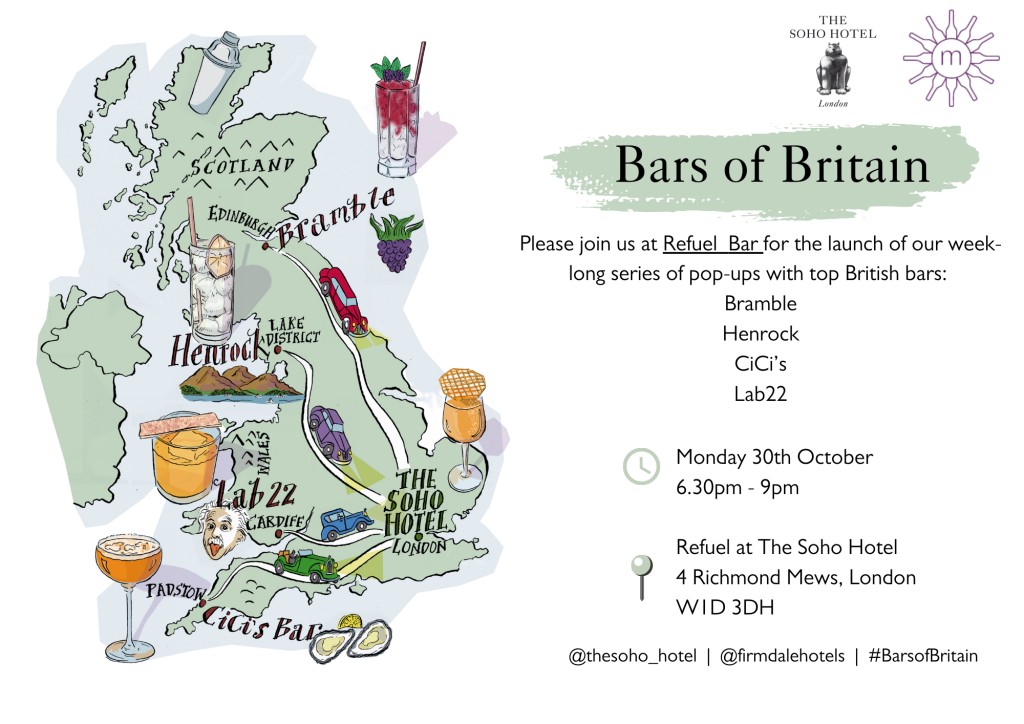 Coming all the way to London from Edinburgh, the Lake District, Cornwall, and Cardiff are:
BRAMBLE – 31ST OCTOBER
Kicking off the week is Edinburgh's acclaimed speakeasy Bramble. Founded in 2006 by Mike Aikman and Jason Scott, it is part of an impressive family of bars, Mothership, all located in Scotland's capital. Known for its high quality house cocktails and DJ sets, Bramble has been recognised by both World's 50 Best Bars and Top 500 Bars.
Sample Drink: Copita (Vivir Blanco, Turmeric, Mandarin, Ginger, Cinnamon)
HENROCK – 1ST NOVEMBER
Part of Simon Rogan's portfolio of bars and restaurants, Henrock is set within the Linthwaite House Hotel, in the heart of the Lake District. Heading up the bar is Andreas Grammatikopoulos who, along with his team, has developed a cocktail menu that uses produce from Simon's 'Our Farm' as well as foraged ingredients, earning them two consecutive Sustainability Practices Award nominations at the CLASS Bar awards. The drinks balance sweetness and refreshing herbaceous notes, and take inspiration from Andreas's native Greece, while also reflecting the bounty and beauty of the Lake District.
Sample Drink: Lake's View Sour (Portobello Vanilla Vodka, Rhubarb & Rosemary Syrup, Rhubarb & Rosemary Foam, Elderflower Liqueur, Lemon, Rhubarb Bitters)
CICI'S BAR – 2ND NOVEMBER
Paul and Emma Ainsworth's CiCi's Bar is the cocktail and pintxos bar above Michelin starred No6 in Padstow, Cornwall. Led by Beverage Director Liam Evans, CiCi's serves a selection of classic cocktails with a twist using local producers and breweries. Their pintxos perfectly complement the cocktails with choices such as Aged Manchego with sourdough and chestnut honey and Chorizo Picante.
Sample Drink: Applecart (Avallen Calvados, Amaro, Lemon)
LAB22 – 3RD NOVEMBER
Concluding Bars of Britain is Cardiff's Lab22 who specialise in molecular-style drinks. Established in 2012, the bar has been at the forefront of cocktail innovation for over a decade, winning them countless awards including 'Best Cocktail Menu' at World's 50 Best Bars and UK's best cocktail at Top 50 Cocktail Bars. Every drink on their intelligent menu offers a comment on the world around us by drawing on important conversations – expect real thinking drinks with innovative garnishes to match.
Sample Drink: Transparency (East London White Rum, Pineapple, Coconut, Colada Crisp)
Don't miss your opportunity to sample some of Mangrove's finest. To book your slot, visit http://sevn.ly/xp9zTBY.
Featured Photo by Adam Wilson on Unsplash.