Getting married? Alcohol-free menu is the new must-have as 29% of Londoners don't drink at weddings
More than a third (34%) of guests feel 'uncomfortable' when not drinking alcohol, with a quarter drinking just to avoid awkward questions

Nearly a third (29%) in the capital don't drink alcohol at weddings, according to new study
The Gilchrist Collection has partnered with star barman Merlin Griffiths to create its new wedding worthy alcohol-free drink menu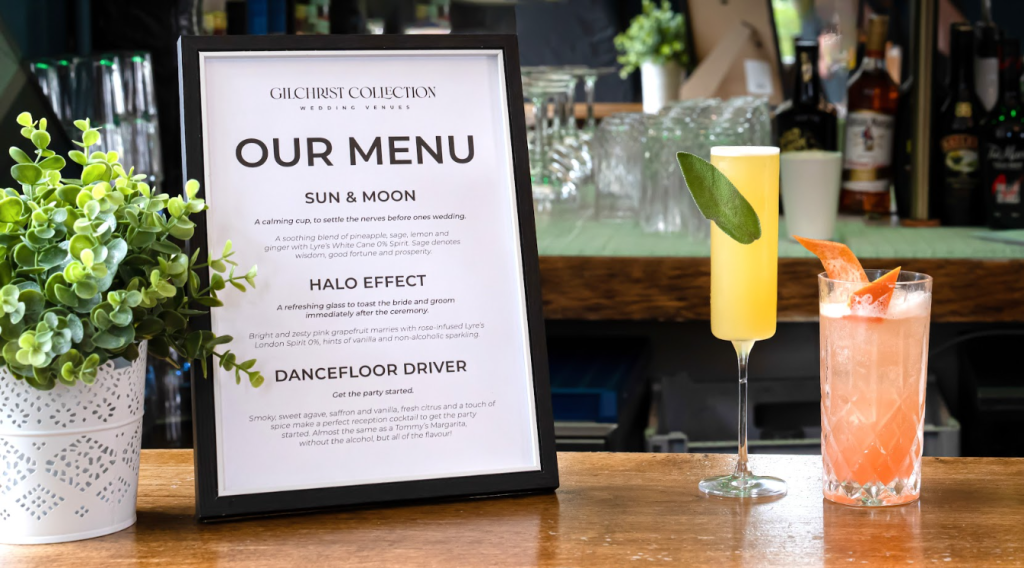 Drinking culture continues to change across the UK, as it's revealed 29% of London guests are now going alcohol-free at weddings.
Samantha Gilchrist, CEO of the UK's largest wedding venue collection, The Gilchrist Collection, conducted a survey of 2,000 UK adults to find out their wedding drinking habits. The study comes as the collection launches its new alcohol-free drinks menu, created in partnership with First Dates star bartender, Merlin Griffiths. 
The survey revealed that across the capital city, over half (53%) of those who had attended a wedding in the last five years didn't drink alcohol during at least one of the events they had been to.
Sober guests said they were often left feeling uncomfortable at weddings sipping an un-festive soft drink, as 34% of Londoners said they are questioned on why they aren't having alcohol. Sadly, a quarter admitted to drinking alcohol at a wedding just to avoid awkward questions or having to share personal or medical information as an excuse.
Venues, however, continue to come up short with their alcohol-free offerings and 84% of those surveyed said they felt wedding organisers should offer more options to cater to guests who aren't drinking. 
Only 20% of London-based adults can recall seeing any non-alcoholic cocktails offered at the weddings they had been to, with non-alcoholic beers or wines also hard to come by (13% and 15% respectively). 
Meanwhile two thirds (66%) of abstaining Londoners were stuck drinking soft drinks at the weddings they attended.
With their venues The Ravenswood and Highley Manor just two hours drive from London, The Gilchrist Collection has partnered with star barman Merlin Griffiths from Channel 4's First Dates to add to their venue's existing non-alcoholic menu, providing sober guests with three new grown-up and celebration-worthy drink options.
Each recipe is perfectly suited for different key moments during the celebrations including:
Sun & Moon – Featuring sage and pineapple flavours with a hint of lemon – the ideal start to the big day as it invokes feelings of calmness and tranquillity.

Halo Effect – This refreshing glass features notes of pink grapefruit, vanilla and rose, topped with Sea Change's 0% prosecco, awakening guest's senses for an instant postnuptial boost. 

Dancefloor Driver – A Tommy's style margarita featuring both smoky and sweet notes with a Tajin spiced salt rim – ideal for perking and encouraging a night of dancing and celebration after toasting the newlyweds.
Samantha Gilchrist, co-founder and CEO of The Gilchrist Collection said: "As a non-drinker myself I've often been to a wedding or event with limited or even no drink options other than water or a soft drink, which is no fun! Worse still, these drinks are often presented in a boring tumbler that highlights the fact I'm not drinking. 
"I really wanted to put something together for my venues that caters for non-drinking guests and those who like a drink but would also enjoy an alcohol-free alternative, that allows them to still drink something special and not be penalised for their choice, whatever their reasons might be.
"We're seeing plenty of couples across our 12 venues both here and in the States requesting more sophisticated no and low drinks for their big day. Young people in particular are choosing not to drink for all sorts of reasons, which is why we wanted to team up with the incredibly talented Merlin to enhance our alcohol-free drinks offering for our couples and their guests."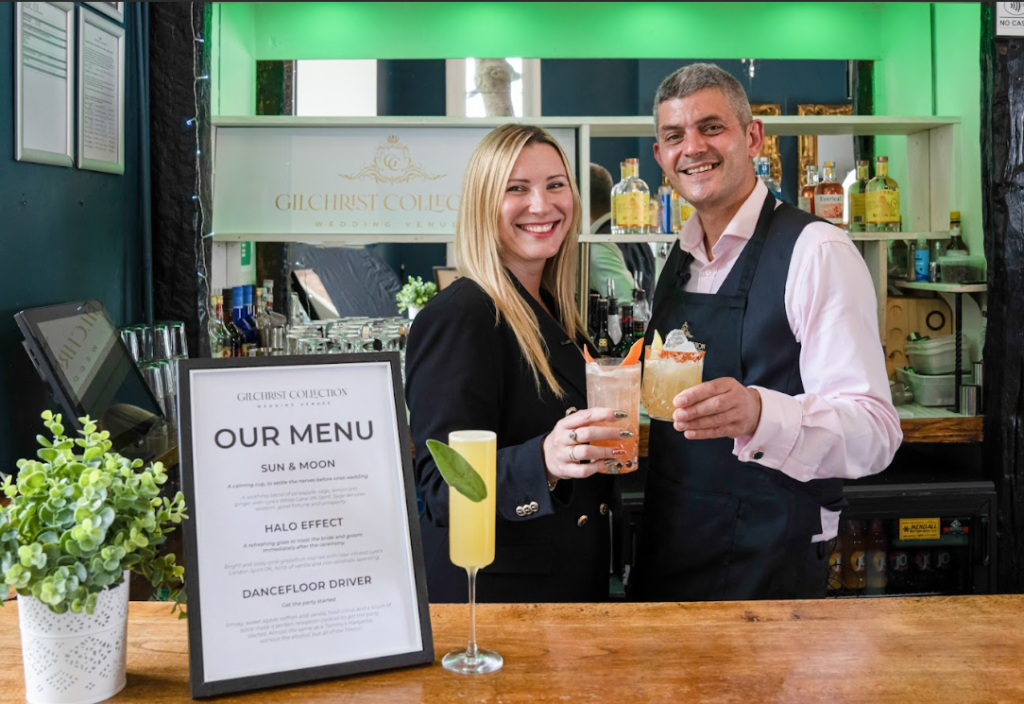 Merlin Griffiths added: "Non-alcoholic drinks stand on their own and are created with the same care and detail of cocktails, which is why we've very deliberately avoided calling them mocktails – there's absolutely nothing "mock" about these drinks!
"Rather than mimic existing cocktails or simply mix together some fruit juices, each of these drinks has been designed to give the happy couple and their guests the chance to experience all the wonderful flavours a cocktail has, just without the alcohol content.
"I've loved working with The Gilchrist Collection to bring these new additions to their drinks menu to life; they illustrate perfectly how guests don't have to drink alcohol if they still want to have a flavourful, sophisticated drink."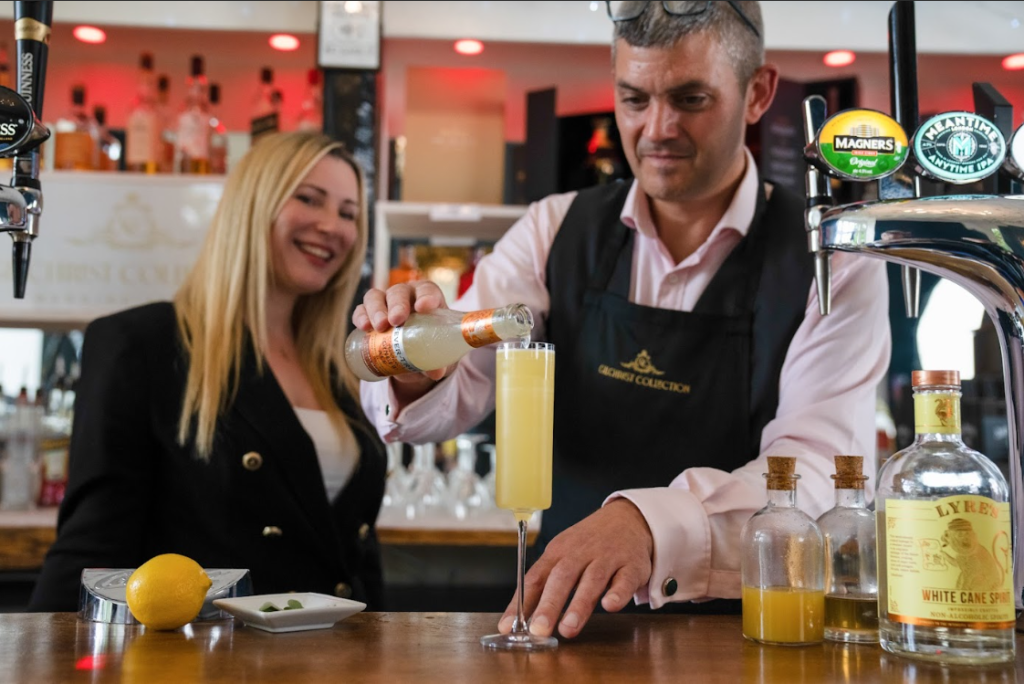 Featured Photo by Helena Yankovska on Unsplash.