A UK Innovation Designed to Solve the Global Health Issue of Indoor Air Quality 
Indoor Air Quality (IAQ) is a global concern for health, wellbeing and productivity as people spend 90% of their time indoors, where IAQ can be up to 7 times worse than outdoor air quality. Poor air quality in indoor spaces can lead to pathogen transmission, high CO2 levels that worsen cognitive function, and can cause respiratory issues. Butterfly is an innovative and patented IAQ monitoring system including a suite of beautifully designed hardware with integrated software that has been developed at Imperial College London over the past four years to responsibly address this issue.

The need for continuous Indoor Air Monitoring Policies both at home, at work and in public indoor spaces is paramount; in the UK only three per cent of local authorities have an IAQ policy. The BRE recently released a report finding that 2.4 million UK homes are hazardous to health, with a cost to the NHS of more than £1 billion per year. Employees are demanding more transparency when it comes to IAQ and are aware of the impact of air quality on their health. According to the Healthy Building Survey 2022 by Honeywell, 62% of global workers would consider leaving their job if their employer does not prioritise a healthier indoor environment.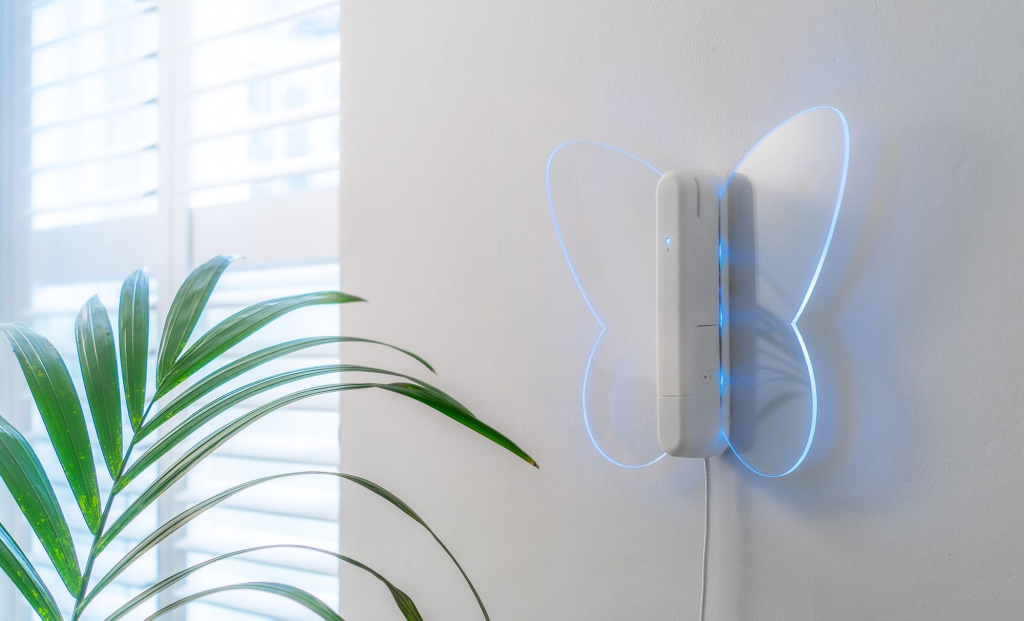 Butterfly offers a game-changing solution. This technology has received patent status both at home and abroad and it has been meticulously designed, rigorously tested, and backed by scientific research from Imperial College London. This innovative and patented technology is poised to transform how indoor air quality is perceived and managed, raising the bar for sustainability, accuracy, and usability.
The Butterfly system offers dual functionality: monitoring and management. Particulate Matter (PM) is one of the biggest areas of focus for the next generation of building management. Butterfly can control the way a building 'breathes' offering both Indoor and Outdoor Air Quality measurement on a location specific basis to provide 20/20 vision – an industry first – with sensors measuring different levels of PM including PM1, PM2.5, and PM10. Butterfly can therefore help to reduce PM for current occupants plus minimise energy consumption with impactful benefits on sustainability – itself therefore contributing to lower emissions and a fully circular outcome. The system has already been deployed at Imperial College, covering a range of modern and historic buildings, showcasing its adaptability across diverse property portfolios. It not only keeps a vigilant eye on air quality but also optimises building operations, potentially saving up to 40% of energy consumption.
Inspired by the butterfly, Butterfly IAQ monitoring system leverages cutting-edge technology to provide highly accurate and user-friendly data. A unique sensing chamber, LaminAIR flow, ensures the ultimate accuracy of measurements by controlling the sample airflow whilst its intuitive gloWING Interface changes colour to reflect air quality, making it easy for users to understand at a glance. Butterfly offers a flexible suite of products to meet the international WELL Standard for various building types and needs from the battery-powered Sapho and Antenna, to the cable-powered Morpho. The system hub, Chrysalis, connects all monitors and exports data to the Butterfly portal via multiple secure channels.
Butterfly seamlessly integrates with Building Management Systems (BMS) to optimise IAQ and minimise energy use, offering substantial return on investment through enhanced well-being and sustainability. Butterfly's secure platform continuously ingests data from all devices, empowering clients to monitor and manage their indoor spaces effectively, whilst the Butterfly App provides mobile connectivity across all devices, offering efficient and user-friendly data access.
"When butterflies are present we know the air is healthy; butterflies are sensitive indicators of the health of our environment. Scientific studies have proven the correlation between the presence of butterflies and healthy air. Air pollution obscures the smell of flowers, making it much harder for pollinators to find them. Therefore, when butterflies are present it's a sign of clean, healthy air." Nick Munro, Commercial Director and Co-Founder