Renowned Luxury Accessories Designer Grace Han Joins
ASIAN ART IN LONDON Exhibition
Cromwell Place Pavilion Gallery – 2023 Autumn Event, East Asian Focus
26th October – 4th November 2023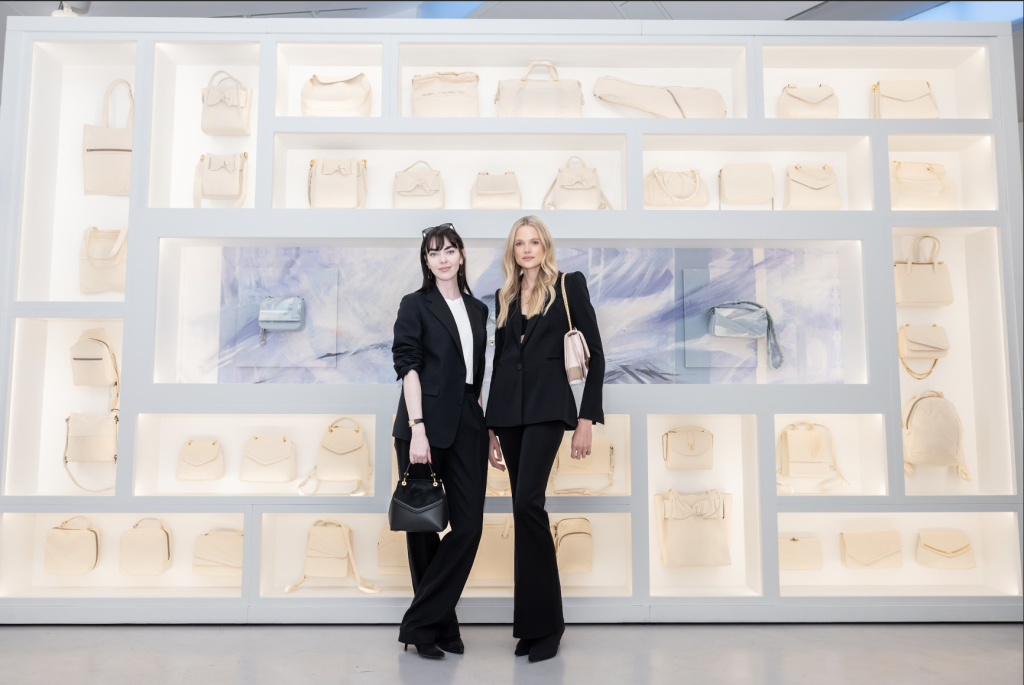 Grace Han, the renowned luxury bag and leather accessories designer, is delighted to announce her participation in the prestigious Asian Art in London exhibition at the Cromwell Place Pavilion Gallery. Taking place between 26th October until the 4th November the event, themed "Metamorphosis," will feature six prominent Chinese and Japanese contemporary artists who have continuously evolved their artistic expression while never forgetting their roots. Grace Han's participation in this exhibition coincides with the reopening of her flagship London store for the first time since the COVID-19 lockdowns were lifted.
The exhibition opened with a Private View event on the 27th October 2023. Grace welcomed press and VIPs to experience the exhibition and meet Grace Han's two special guests' actress and model Gabriella Wilde and graphic artist and designer Zoë Zimmer. Zoë is best known for her work as an artist, photographer and model inheriting her creative streak from her father, Oscar winning Hollywood movie score composer and music producer Hans Zimmer. Descended from the aristocratic Gough-Calthorpe family Gabriella's first love was art however she pursued a career in acting and modelling and has appeared in campaigns. She is now best known for her acting roles including a long standing part as Caroline Penvenen in BBC's Poldark.
Perfectly aligned with the theme of Grace Han's exhibition, both Gabriella and Zoë are very successful creatives in their industries who have drawn great inspiration and nurture from their accomplished families.
An impressive exploration of how art can influence fashion, Grace decided to partner with Asian Art in London to exhibit her latest collection alongside her late mother Anita Wong's stunning large paintings which inspired her new creations. Curated by Dr. Ye Guo-Shin, and founded by Mo Hai Lou International Art Research Group, Asian Art in London exhibition is one of the major annual events in the global art and culture circles. Grace said that " I am deeply honoured and very lucky to have been invited to this exhibition by Mo Hai Lou. I deeply appreciate the opportunity to participate with such talented individual artists."
This perfectly connected with the exhibition's theme of 'Metamorphosis.' Grace's mother was a significant influence on her creative journey, nurturing her passion for art and teaching her various artistic techniques, from painting to calligraphy.
Before passing Anita Wong was a celebrated artist herself who's legacy still lives on today. Full of humanistic care, she treated her artworks affectionately, creating tranquil paintings full of delicate movement, taking inspiration from philosophy and the nature of heaven and earth. Her works bring together artistic techniques from both the East and the West seamlessly wandering between hardness and softness, elegance and the natural. Still to this day, the Wang Chen Jingwen Charitable Foundation which she founded is still active in supporting the new generation of young artists.
This early connection and artistic upbringing from a highly successful and influential family in Taipei, Grace learned vital skills from her entrepreneurial father, emphasising discipline, hard work, and attention to detail. Simultaneously, her mother's teachings in art and calligraphy nurtured her appreciation for tradition, fine arts, and craftsmanship. Grace's mother ultimately led to establish her internationally acclaimed luxury accessories label.  A joint and seamless collaboration, the exhibition will feature Grace's leather creations, works of art in their own right alongside Wang Chen Jingwen's celebrated layered and atmospheric oil paintings that inspired them.
Founded by Grace Han, British luxury accessories designer who was born in Taiwan, her eponymous bag and leather accessories label has become synonymous with elegance and exceptional craftsmanship. Seamlessly blending Eastern and Western design influences, Grace's collections strike the perfect balance between timeless style, uncompromising quality, and purposeful design. Already a wardrobe staple for several powerful women from the East such as Akie Abe, former 1st Lady of Japan, Grace's brand famously gained international recognition when Catherine, Princess of Wales, personally selected and carried her own Grace Han bag to multiple royal engagements in 2020 and 2021. This royal endorsement has further cemented international recognition and prestige of the Grace Han label.
Recognising the profound connection between art and fashion, Grace states, "We believe that art is a way to express and convey emotions and it has infinite possibilities. It can inspire people's imagination. Therefore, we decided to present our new collection in the exhibition, in a surprising way, taking the audience to the intersection where fashion meets art."
Historically fashion has been regarded as part of visual culture, a form of wearable art. As a result some of history's most well-known fashion designers have created collections inspired by the works of their favourite artists and art movements. Grace has followed their lead, taking great inspiration from the tranquillity of her late mothers celebrated oil paintings and drawing on the juxtaposition of hard lines and elegant softness throughout her works.
The exhibition showcases the story and development of Grace Han, the inspiration drawn from her mother's artworks, and the symbiotic relationship between art and fashion. Grace's late mother's expressive oil paintings, characterised by evocative lines and a serene atmosphere, inspired many of Grace's early designs, incorporating tactile features such as feathers and playful textures.
Exploring the influence of art on fashion, the exhibition will highlight the correlations between Grace's mother's remarkable artworks and the finished products that define the Grace Han brand today. Embracing the spirit of metamorphosis, the exhibition will delve into the deconstruction, design process, and inspirations that culminate in a signature Grace Han bag. Each bag is treated as a work of perfection, with some designs taking several years to develop. Visitors will gain insight into the meticulous craftsmanship and materials selection across three iconic series.  Inspired by her mother's impressive artwork 'Placid Sea' Grace will present her new design 'Moments', an elegant flap bag in leather and suede with top handle chain. The design reflects the colours of the artwork it was inspired by and the atmospheric lines present throughout her mother's work. Grace will also present 'Wonderland', a three piece mini collection featuring ethereal and water-like prints that are present in her mother's painting 'Flowing Down'. This collection features classic Grace Han designs including the Love Letter top handle bag, clutch bag with metal chain, and classic flap bag with metal chain. Finally, Grace will also bring the 'Our Melody' to the exhibition, a reinvention of her signature 'Love Letter handle top bag' made famous by Princess Catherine of Wales. This fresh take features a small envelope pouch hidden inside the classic Grace Han design constructed in nylon tulle in elegant and timeless neutral and white, and black and grey.
Grace hopes that visitors to the exhibition will appreciate the 'metamorphosis' of her own work through the Grace Han brand, as well as the profound connection between fashion and art, and the enduring influence of her mother on her creative process. In addition to her participation in the exhibition, Grace will reopen her flagship store in nearby Beauchamp Place in South Kensington for the first time since the pandemic lockdowns. This return to London holds special significance, as it is the city where her parents met, fell in love, and got married. London's romantic nostalgia continues to inspire Grace's brand, making it the perfect location for her flagship store.
Don't miss the opportunity to witness the artistic journey of Grace Han and the fusion of fashion and art at Asian Art in London's 2023 Autumn Event, East Asian Focus, from October 26th to November 4th, 2023, at the Cromwell Place Pavilion Gallery.
Asian Art in London opens at the same time as the grand reopening of Grace Han's flagship store at 13 Beauchamp Place, South Kensington.
Featured Photo by freestocks on Unsplash.