DISCOVER THE BEST FESTIVE WORKSHOPS TO GET INTO THE CHRISTMAS SPIRIT THIS SEASON
Get creative with friends this Christmas at one of Wecandoo's premium immersive artisan workshops

From wreath-making and bauble-blowing, to beer-brewing and gløgg-tasting, Wecandoo's community of local artisans have something new to teach everyone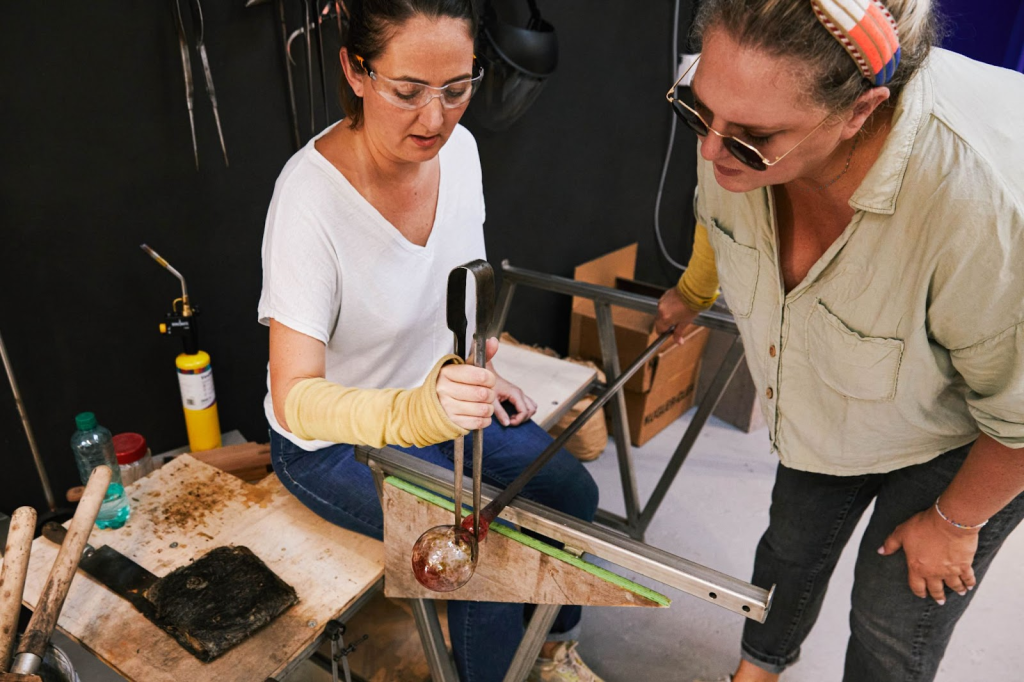 London-based artisan workshop community, Wecandoo, has launched a range of festive-themed workshops to get the curious and creative into the Christmas spirit. Alongside the usual collection of 100 creative workshops available, Londoners can now find additional limited-edition festive experiences, from glass-blowing bauble making to seasonal wreath-making.
Looking for a special activity to celebrate Christmas with friends? Avoid visiting the same old Christmas markets and opt for something more original and exciting which you'll remember forever. Putting off your Christmas shopping to avoid London's high streets and shopping centres? Gift a handcrafted artisanal product made by yours truly when you book yourself into one of Wecandoo's festive, or regular, workshops.
For a truly unforgettable winter experience, check out Wecandoo's top cosy and Christmassy workshops:
Elevate your Christmas tree… with a festive glass-blowing bauble workshop:
Breathe life into the festive period and enter the exclusive realm of glass artistry. Roll up your sleeves to create a Christmas bauble and paperweight. Run by two sisters, Molten 1090 has curated a vibrant environment, perfect for getting into the Christmas spirit. (Stoke Newington, 3.5 hours, 3-7 guests, £125pp).
Deck the halls of your home… with seasonal wreath-making:
Step into a world where creativity intertwines with nature in this festive floristry workshop. Learn from green-fingered artisans, Little Natures, about the history of this holiday tradition as you build your own wreath. (Hackney, 1.5 hours, 3-8 guests,  £55pp). For those who want their winter wreaths to last well into the new year, Little Natures also offers a dried flower winter wreath workshop (Hackney, 1.5 hours, 2-8 guests, £68pp).
For the green-fingered folk based in West London, floristry masters, Lily and Liz, also host a festive wreath workshop in Fulham (Fulham, 2 hours, 4-12 guests, £85).
Raise your spirits… with Nordic Aquavit and Gløgg tasting:
Indulge your taste buds as you become immersed in the ancient world of Scandinavian spirits at the Vintersol Distillery. To get into the holiday spirit, you will also get to try the Nordic equivalent of mulled wine, Gløgg – perfect for hygge nights in. (East Putney, 1.5 hours, 1-5 participants, £25pp)
Stay cosy… with a hand-tufting rug-making workshop:
Lose your red nose as you journey into the comfy and colourful world of hand-tufting. Learn the secrets of creating iconic, conversation-starting rugs from Carpet Artist, OMO DIY. Gain a snug rug and cherished memories for seasons to come. (Bermondsey, 3.5 hours, 1- 5 guests, £125pp)
Have a barrel of laughs … with beer brewing:
Escape the hustle and bustle of central London in the holiday period, and immerse yourself in the art and science of beer brewing. Get your hands dirty as you build your own beer from scratch. After the lengthy process, it's bottoms up! You'll get to try a variety of Mash Paddle's finest beers. (Bermondsey, 4 hours, 4-6 guests, £70pp). Short on time but still fancy a brewtiful night? Mash Paddle also offers a beer and cheese pairing workshop. (Bermondsey, 1.5 hours, 4-20 guests, £35).
Unlike other booking platforms, Wecandoo only offers the best quality workshops delivered by those with a true passion and desire to share knowledge. All artisans are chosen for their expertise, having over two years experience in their trade and it being their main professional activity. Workshops take place within the artisan's own studio, offering a truly immersive experience to discover the daily life of a professional artisan.
Prices start at £25.00 for an olive and oil tasting workshop, right up to £250.00 to handcraft your own leather backpack, and gift cards start from £25.00 – so there's something for every budget. Select workshops can cater to groups of up to 30 people for families or colleagues looking for an adventurous alternative to traditional Christmas functions. Check out Wecandoo for the most up to date list of workshops available.