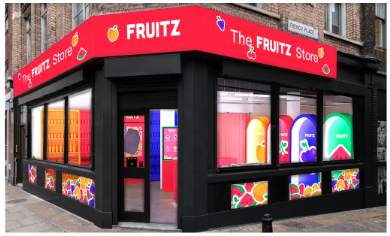 The Fruitz Store aims to challenge dating norms and stigmas and help Gen Z save time and avoid misconceptions by expressing themselves authentically

The pop-up will be open to the public on 3 November 6-10pm and 4 November 12-10pm at 149 Shoreditch High Street

Hosted by special guests including singer, radio presenter and avid Fruitz user Tallia Storm, visitors can learn find out what their fruit profile is, expect free sweet treats, enjoy naughty giveaways and participate in speed dating

Londoners can meet their match in Fruitz speed dating series on Saturday 4 November at 4pm, 5pm and 6pm, by registering their free place on EventBrite
New Gen Z dating app Fruitz (part of Bumble Inc.) announces it is opening The Fruitz Store on Friday 3 and Saturday 4 November in London, to spark authentic conversation around dating, body image and sex.
Hosted by special guests including singer, radio presenter and Fruitz user Tallia Storm, the green grocer style pop-up welcomes Londoners aged 18-26 to discuss what they really want in relationships, find out what their 'fruit' is, receive dating and body image advice, as well as the chance to meet their fruit match through speed dating.
With Gen Z being the most fluid generation yet, not just in terms of how they define their gender and sexuality but how they define relationships in general, Fruitz hopes to encourage liberation as a standard and challenge and reject stigmas on dating apps. The Fruitz Store has been designed with fresh fruits to reflect its stance on body image positivity, and visitors can also visit an obscure fruit art gallery, as well as attend a confession booth to offload what their biggest body misconceptions are.
Located in Shoreditch, one of London's youngest and most liberated areas of London, staff will be on hand to get visitors up close and personal with Fruitz fruits, helping them to discover their most appropriate fruit profile. There will also be a series of speed dating sessions to take part in on Saturday 4 November at 4pm, 5pm and 6pm. Guests can reserve their free space by heading to EventBrite.
To top it all off, there will be lots of free fruity food and drinks including Pan'N'Ice, music and some naughty giveaways. Visitors can also have a go on the grabber machine to win special prizes such as premium subscriptions to the Fruitz app or a free dinner date for two.
Address: 149 Shoreditch High Street, London E1 6JQ
Date & Timings: Friday 3 November 6pm-10pm and Saturday 4 November 12pm-10pm
Fruitz promises a light-hearted and freemium approach to meeting people whilst making sure users are safe and open about their expectations. The app promotes the belief that no one should be ashamed of their true intentions and is fighting romance taboos and prejudices.
Focused on promoting an honest approach to dating, sexual freedom equality and time saved by matching people that have the same expectations, the app takes a slightly different approach to the other dating apps out there by pairing people through, quite literally, fruit. Users are asked to select a fruit emoji, based on what relationship status they're after, whether it's a one night stand (peach), friends with benefits (watermelon), casual dating (grape), or looking for love (cherry).
The app is now available in the UK via the App store and Google Play to download.
Featured Photo by ROBIN WORRALL on Unsplash.