Excel Networking Solutions, the infrastructure provider that offers: Copper and Optical Fibre, Pre-Terminated Solutions, FTTx, Racks, PDUs, Voice and a full range of accessories, has launched a new range of cabling products specifically suited for external infrastructure installations.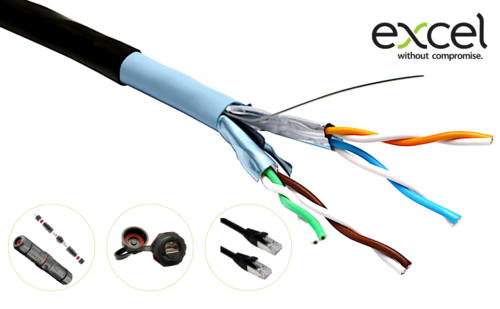 The new product set includes a unique Category 6A U/FTP S-Foil cable (P/N 190-980-DS) which comes with a double sheath with a PE Fca outer sheath for the external part of the installation. By stripping back, the outer sheath using the nylon rip cord, the inner B2ca internal cable is revealed with its own unique part code. This means an installer can easily use the same cable without the need for terminating and adding a demarcation point at the entry point to the building, as you would do with a traditional external/internal data cable installation. The Inner sheath is also fully identifiable as its own unique part code with full CPR certification to B2ca standards.
Simon Jacobs Excel Product Manager for Copper and Racks commented 'We see this cable as being the perfect solution for project-based installations of products such as access control, access points, intercoms and CCTV solutions or anywhere that has an installation where cabling needs to be installed both externally and internally. The time saving gained with this revolutionary cable will allow customers to save time and therefore money and will make installations so much simpler.'
Simon continued 'The other products in the range include a Category 6A IP68 Coupler (P/N 100-151-EXS), a Category 6A IP67 Bulkhead Coupler (P/N 100-150-EXC) and Category 6A External rated patch leads in 0.5m (P/N 106-981) and 1m (P/N 106-982) so installers can easily connect external devices with the knowledge that the connections are kept watertight.'
Simon concluded 'We have numerous new products being added to the Excel range on a regular basis and as with the majority of them when installed by an accredited Excel Partner they will also be covered under the comprehensive 25-year warranty.'
The new Excel Couplers are already available from stock and the external patch leads and cable will be available from early October.