LNER is opening the doors to The LNER 1923 Restaurant, where diners will feast on the past, present, and future of rail cuisine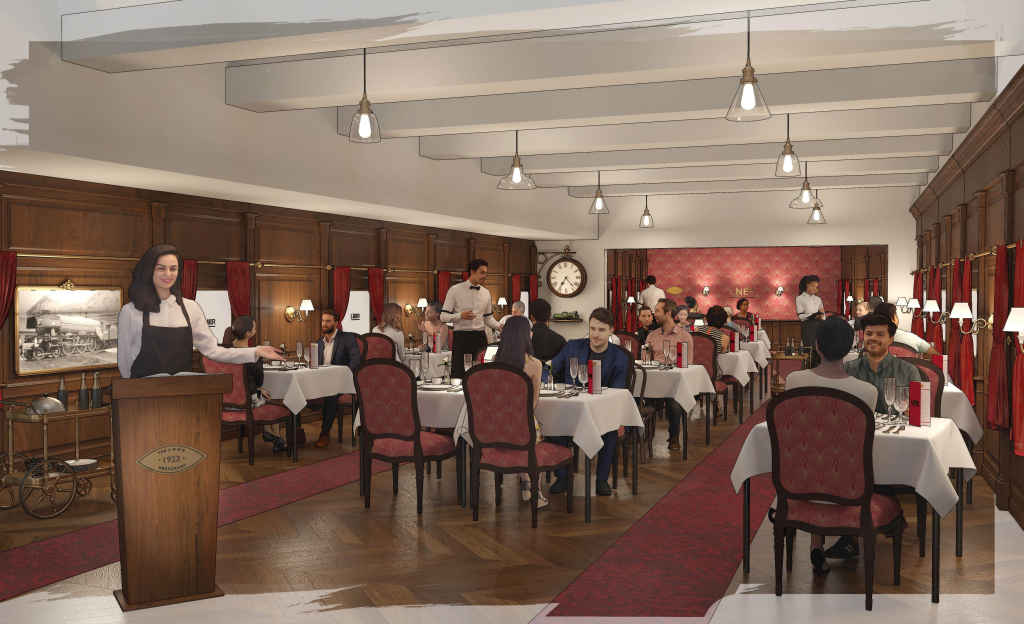 London North Eastern Railway (LNER) is celebrating the 100th anniversary of the LNER brand by offering people an exciting opportunity to 'travel back in time', and enjoy a specially created menu, designed to showcase some of the most delicious dishes served to train passengers over the past century – and beyond. 
The 'LNER 1923 Restaurant', will take place on Monday 6th and Tuesday 7th November 2023 at The Cookery School at The Grand in York – the former headquarters of LNER, providing the perfect historic backdrop for the unique, pop-up restaurant. During the course of each evening, diners will be transported back to the year the LNER brand first began, savouring delectable dishes from the past and present. Guests will also experience a taste of what may be to come in the shape of a futuristic dessert created to reflect the potential onboard cuisine 100 years from now. 
The supper-club style experience will be fully immersive, designed to stimulate the senses and take diners back to a decade filled with post-war optimism, rising prosperity, and glitzy glamour. With stunning 1920s décor, music from the era, and an electric atmosphere, every element will give guests a gourmet glimpse of the infamous roaring twenties. 
Once settled into their sumptuous surroundings, diners will enjoy the star of the show – a carefully curated menu which takes inspiration from the past, present, and potential future of the food served to passengers travelling on LNER's Azuma trains, with courses reflecting the years 1923, 2023, and 2123. 
Whilst the event is free for guests to dine, LNER is requesting that people 'pay' for their meal with donations to York Foodbank. Guests should bring a small selection of non-perishable, unopened goods that will be collected by the charity.
Menu du jour 
Starter – 1923
Crème de Pois Vert et Sole Devon
A chilled pea soup with watercress reduction & slow cooked sole 
A pairing of two dishes from actual 1920s LNER menu 
Vegan/ GF option – Crème de Pois Vert et Poisson Faux
A chilled pea soup with watercress reduction and faux fish (watermelon steak) 
Main – 2023
Confit chicken with chanterelle cream reduction, wilted cavolo nero & cream potato 
Vegan/ GF option – Chestnut terrine with chanterelle cream reduction, wilted cavolo nero & creamed potato 
Inspired by the current LNER menu and using high quality ingredients from across the east coast route 
Dessert – 2123
Mushroom panna cotta, spirulina 'moss' with a rhubarb, pear and ginger gel cover, finished with amaranth micro blossom
All dishes will also have a dedicated drink pairing, expertly selected to complement and enhance the delightful flavours at play. The starter will be paired with a classic 1920s cocktail, the Bees Knees – dry gin infused with honey and lemon juice, while the main course will be paired with a crisp white wine from present day and currently served onboard LNER trains. Finally, an Instant Infused Gin Fizz will accompany the dessert, with homemade gin and British fruit and herbs. 
The edible elements of the experience aren't limited to the 1923 Restaurant itself – with LNER exploring ways to introduce dishes inspired by the restaurant to its on-board menu. 
The 1923 Restaurant is launching following research from LNER, which revealed that over a third of Brits (36 per cent) find long train journeys more appealing as it gives them a chance to relax and enjoy some good food. A further 32 per cent say onboard dining takes the stress out of their journey and makes it feel more leisurely. 
Claire Ansley, Customer Experience and People Director at LNER, said: "For the past 100 years, LNER's chefs have created culinary delights for our customers, always striving for excellence. Whilst our menu has evolved over the years, our commitment hasn't wavered, and 'The 1923 Restaurant' gives us an opportunity to celebrate this and spotlight the culinary talent we continue to nurture. The menu will take guests on a mouth-watering journey through the decades whilst representing the evolution of the LNER brand." 
LNER prides itself on providing customers with the highest quality food and drink onboard its services, serving a wide range of delicious fresh, locally sourced produce, from suppliers and small businesses along its route. The LNER 1923 Restaurant's menu will reflect this, bringing people together to experience the best of LNER's local cuisine first-hand. 
The 1923 Restaurant will be found at The Cookery School at The Grand in York on Monday 6th and Tuesday 7th November at 7pm. Diners can make reservations for the exclusive event via Eventbrite here. The experience is likely to prove popular so booking early is advised.
Featured Photo by Jay Wennington on Unsplash.