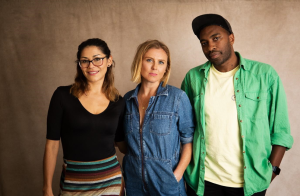 Babbu's founding team (from left to right) Jane Magnani Head of Education, Charlie Rosier Co-Founder/CEO and Tyrell James Co-Founder/CPO.
Science tells us that a child's experiences from conception to the first five years shapes their next fifty.
However, millions of children are denied access to structured learning and development opportunities in their Early Years due to growing issues of affordability, flexibility and availability within the formal childcare sector, a problem exacerbated by the pandemic and the current global financial situation.
Shockingly, nearly half of all UK children are not school-ready by age five, with reports of children unable to say their name, hold a pencil and still in nappies.
Babbu is the app every parent or carer of a small child needs on their phone. The world's first Montessori-endorsed platform arms parents with a simple development and education programme which can be done in easy, bitesize sessions to help a child reach their full potential before beginning primary school.
How does it work? Babbu's "online nursery" is designed to give each child the best possible start in life with just 15 minutes of play a day. For a monthly subscription fee the online learning platform integrates daily Early Years Foundation Stage (EYFS) activities in an AI personalised 'curriculum' for each child, alongside a community of experts offering parents and guardians advice to help support their child's development in those crucial first few years. It is jam-packed with helpful hints, lessons, tricks, podcasts, activities, songs, stories and advice to help empower parents and children, maximising capabilities whatever the life context. It also supports the parents physical and emotional wellbeing whilst delivering the best child development theories and teaching philosophies to life, from just 15 minutes a day.
How is Babbu making Early Years education accessible for all? In the UK, preschool education has become a privilege, despite it being a fundamental human right and enshrined in the UN's sustainable development goals. Not all parents are able to afford or have easy access to regular and structured childcare. Many rely on the support of family, friends, or have to co-parent whilst juggling work. In these situations, Babbu could be used by all parties involved in looking after the child to ensure they are receiving consistent and high-quality Early Years education, at home.
Crucially, Babbu also offers a 'buy-one, give-one' model – meaning for every paying user the company will provide free access [to the platform] for some of the UK's most disadvantaged families. Babbu is an approved partner of Family Action, one of UK's largest charities supporting 60,000 disadvantaged families, which HRH the Princess of Wales is Patron. Babbu has already gifted 200 licenses to Family Action in Leeds & Milton Keynes. The founders are also in discussion with Save the Children, the NSPCC, and local authorities with the aim to distribute free access and democratise Early Years education, giving every parent and carer equal access to the same information, support and education tools. In a separate charity initiative, Babbu works with Future Men, which helps dads become better fathers.
Even those who can afford the luxury of structured childcare should use Babbu's program; fifteen minutes a day can help parents to bond with their children in a way that will developmentally beneficial – and fun!
"Babbu was made for baby and you. We've taken decades of experience and science, distilled it into a user-friendly platform, added the knowledge of childcare experts from across the globe, and made it easy, accessible and fun. It's an online nursery that's open to everyone and, hopefully a support system for all parenting teams. We are looking forward to being right there, by your side, as your Babbu babies grow." Charlie Rosier (Co-Founder/CEO), Jane Magnani (Head of Education) & Tyrell James (C0-Founder/CPO).
Featured Photo by Alexander Dummer on Unsplash