Taking place from Friday 6th – Saturday 7th October 2023 at Mercato Metropolitano in Elephant & Castle and on the 14th October at Mayfair Mercato
The free-to-enter German Kraft Oktoberfest will be serving up a selection of German-style craft beers freshly brewed on site, authentic German food, plus a live Oompah band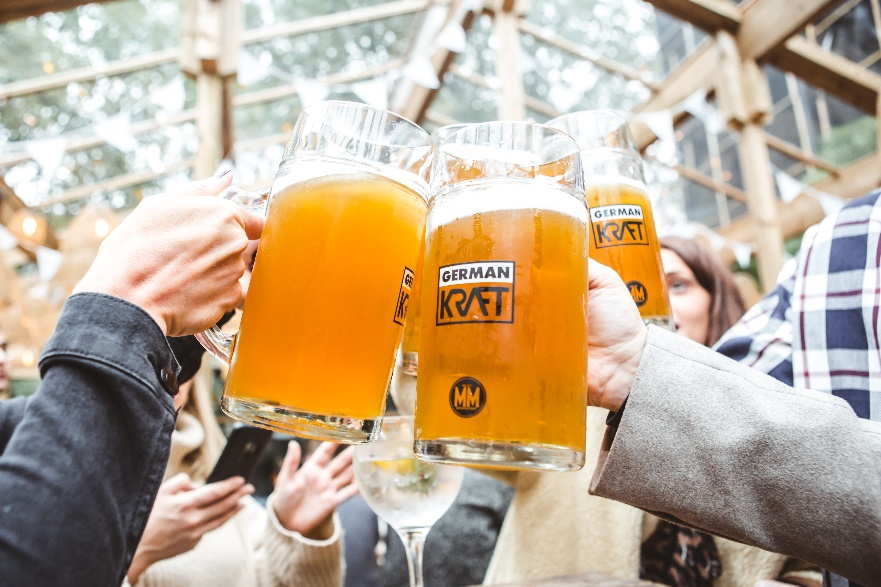 Get ready for a legendary celebration at this year's German Kraft Oktoberfest held by Mercato Metropolitano (MM) during October – and it's entirely free to enter.
Taking place at two of the MM sustainable community markets in central London, Elephant & Castle and  Mayfair, the Oktoberfest events are set to be an unforgettable festive celebration to mark the true beginning of the autumn season.
The festivities promise to be fun for all, encompassing a family-friendly atmosphere where you can tuck into German sausages, pretzels and authentic sharing platters galore, all washed down to the sound of a traditional Oompah Band.
With a great selection of German-style craft beers freshly brewed on site, there will be half pints, pints or the traditional 1 litre stein glasses of every beer served in true Oktoberfest fashion.
Non-beer drinkers are also welcome as bars will be fully stocked with a range of alternatives to enjoy, including G&Ts made by on-site distillery, Jim and Tonic.
Live music from a traditional Oompah Band and local DJs will also set the atmosphere, so prepare to be entertained by energetic performances that will get you singing and dancing all day and night long.
Dates for the diary:
German Kraft Elephant & Castle Oktoberfest – Friday 6th – Saturday 7th October 2023
German Kraft Mayfair Mercato Oktoberfest – Saturday 14th October 2023
With free entry for all of the events, the first of the Oktoberfest celebrations will be held at the Elephant & Castle site on Friday 6th October – a huge 55,000 sq ft venue that's only a short walk from Elephant and Castle station in South London.
You can enjoy more Oktoberfest celebrations in the beautiful, Grade-I listed St Mark's Church at Mercato Mayfair on 14th October. Indulge in fresh German Kraft brews at the altar Kraft Bar or in our MM's 250l microbrewery located in the crypt, where specialty beers are brewed on-site. where specialty beers are brewed onsite.
There will also be various artisan food stalls at both sites that will offer a variety of culinary choices, including Turkish stall Doner Domer, serving a selection of sausages, chips, sauerkraut and pretzels, and Sri Lankan stall Karapincha, with a choice of meat and vegetarian platters.
Andrea Rasca, CEO and Founder of sustainable food market MM, said: "We're really excited to host our German Kraft Oktoberfest this year. We have made all our festivities free to enter, working with local trading partners and suppliers, so that they are accessible to all—this is a huge part of our mission to support local communities and offer inclusive activities and events for everyone to enjoy."
You can find Mercato Metropolitano Elephant & Castle at 42 Newington Causeway, London, SE1 6DR and Mercato Mayfair at St. Mark's Church, North Audley Street, London W1K 6ZA.
For more information, please visit: Craft Oktoberfest Elephant & Castle.
Featured Photo by Louis Hansel on Unsplash.