London's world-renowned Grade I listed chapel and music venue Union Chapel opens its doors for 
Heritage Open Days and London's Open House Festival 2023.
September 9, 2023
Union Chapel, London's historic Grade I and II listed chapel, acclaimed live music venue and social enterprise, will be taking part in England's largest festival of history, architecture and culture, Heritage Open Days and London's Open House Festival 2023, both taking place on September 9, 2023.
Open House Festival is a two-week celebration of London's homes, architecture, and neighbourhoods. Get inside some of London' best-known buildings and celebrate your curiosity for what happens inside the buildings we walk past every day.
Heritage Open Daysis England's largest festival of history and culture: every year, thousands of venues and heritage spaces open their doors to allow people to discover hidden places and try out new experiences and discover the heritage on your doorstep.
Over the day there will be an array of activities on offer:
Free guided tours by the Friends of Union Chapel. Learn about the unique architecture and heritage of one of London's landmark buildings.
Family Workshops. Learn hands-on how to build and play an organ (from age 7 and up), generously supported by the Institute of Physics.
Lunch time organ recital with Union Chapel's organ students from St Mary Magdalene School and their tutor and acclaimed concert organist Jeremiah Stephenson on the world-famous 1877 Willis organ powered by water hydraulics.
Film Screening of Organ Stops-Saving the King of Instruments. Directed by James Dawson. The film will be presented by restorer of historic organs Martin Renshaw.
See the stage that has played host to some of the world's most iconic artists such as Amy Winehouse, Adele, Celeste and Elton John.
An architectural gem in Islington, London, built in 1875-77 and designed by James Cubitt, a leading Victorian nonconformist architect, Union Chapel is one of the best examples of Neo-Gothic Victorian congregational church in England, often compared to a small cathedral in its scale.
Event Times:
Free guided tours of Union Chapel: 10.00 – 14.15
Kids organ workshops
Session 1: 10.00 – 11.00 (7 – 10-year-olds)
Session 2: 11.15 – 12. 15 (11 plus)
Organ Recital: 12.15 – 13.00
Film Screening 13:15-14:30
Tickets: 
Free ticketing with booking essential as places are limited. To book tickets go here.
Booking opens August 16 until September 8, 2023
Union Chapel is welcoming walk-ins from 10.00-14.30 without booking for those who wish to see the space on a self-guided tour.
Union Chapel's organ was designed and built specially for the size and acoustics of UC in 1877 by master organ builder Henry "Father" Willis. Known to be one of the finest examples of his work and registered as an instrument of importance by the British Institute of Organ Studies, it is often referred to as the "Rolls Royce" of organs and not only boasts his finest craftsmanship but is also one of very few organs left in the UK with a fully working original hydraulic (water powered) blowing system.
 Union Chapel is also host to the boundary and genre pushing Organ Reframed – the only festival of its kind in the UK – commissioning innovative music, introducing new artists, and attracting new audiences to this versatile instrument.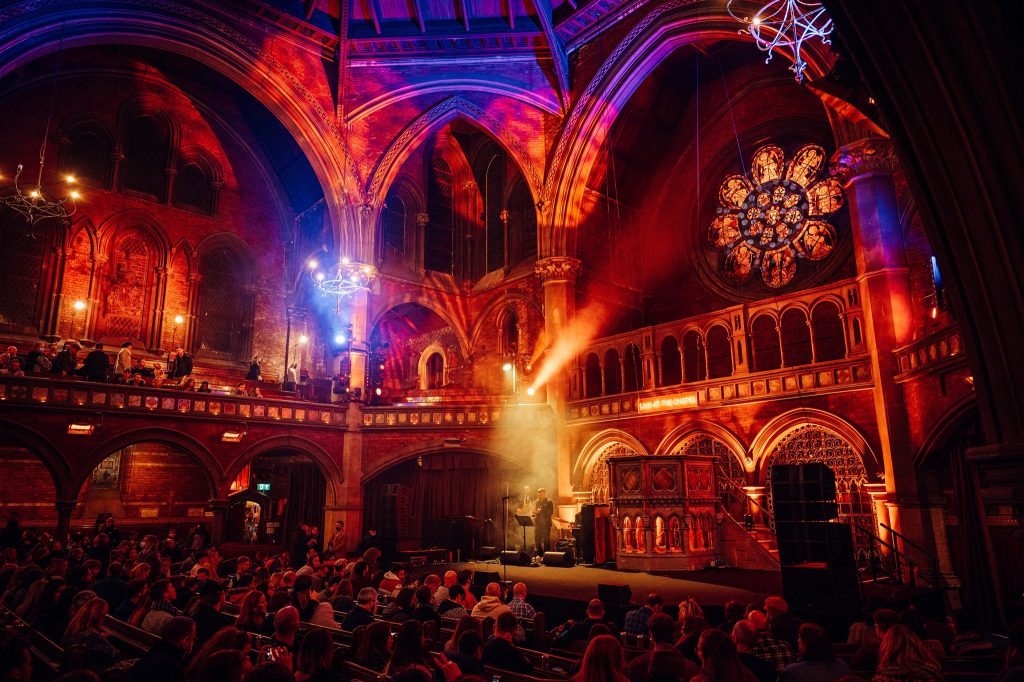 Support our work:
Our highly praised organ programme of education and performance has provided opportunities for all ages and disadvantaged communities, providing a smooth and supported path from childhood to professional organ performance and composition of all genres.
Through free composition and performance workshops, residencies, scholarships, individual lessons, tours, and our critically acclaimed festival Organ Reframed, our programme is world renowned for its innovative approach in sustaining and broadening the repertoire and learning of the organ.
Please consider donating here to support this work and help maintain our unique and historic organ. Your donation can fund: (https://cafdonate.cafonline.org/21613#!/DonationDetails)
£10 can fund a place for 1 student at a primary school workshop with the organ.
£15 can fund a subsidised ticket for an organ recital or concert, for someone who would otherwise miss out.
£30 can fund a free organ lesson for a local young person, with a Royal College of Organists Accredited Teacher.
£150 can fund maintaining and routine repairs for the organ for a month.
£250 can fund an educational organ-building workshop for young people.
£500 can fund an organ masterclass for student composers.