The 10 Best Pumpkin Patch Locations for Proposal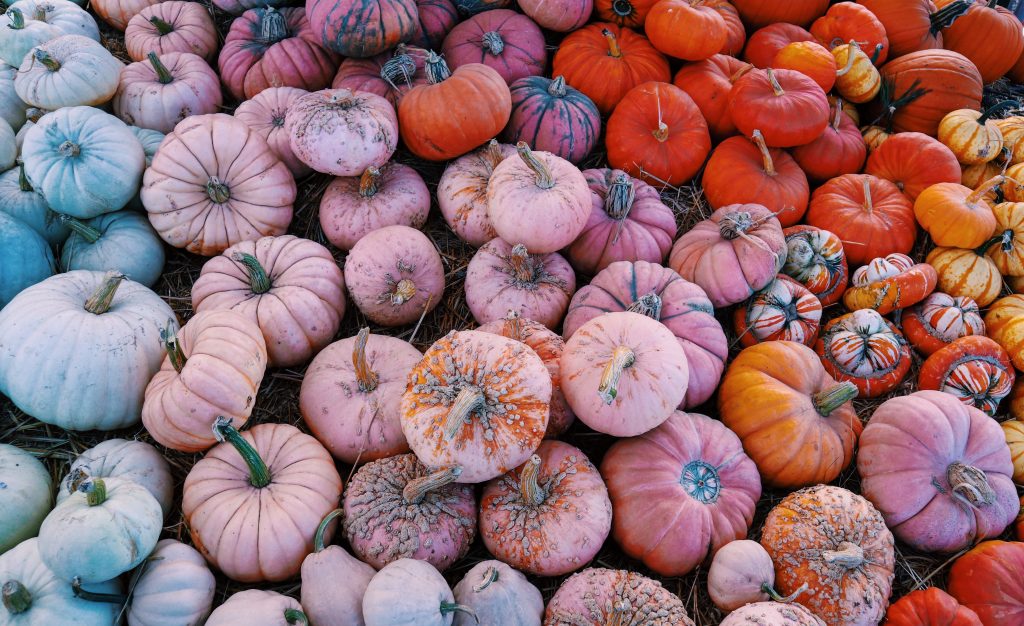 Photo by saira ahmed on Unsplash.
With almost two thirds of newly engaged couples sharing their big news on social media before anywhere else, the wedding planning experts at Hitched.co.uk have teamed up with luxury jewellers Austen & Blake to reveal the best locations for pumpkin patch proposals this season, to make sure that "I said YES!" post is as seasonally appropriate as possible.
For those thinking of popping the question in the ultimate autumnal setting, or for those simply looking for a romantic pit stop, couples can now take their pick from the very best seasonal locations.
The wedding and proposal professionals analysed over 50 pumpkin patches across the UK, ranking each location on various factors including their Google and TripAdvisor ratings, the number of Instagram hashtags for each patch, and the Google search volumes across the UK every month.
The Top 10 Pumpkin Patches in the UK 
| | | | |
| --- | --- | --- | --- |
| RANK | Pumpkin Patch | Location | SCORE / 100 |
| 1 | Cannon Hall Farm | South Yorkshire | 94.11 |
| 2 | Stockeld Park | North Yorkshire | 81.26 |
| 3 | Doddington Hall | Lincolnshire | 77.47 |
| 4 | Farmer Copley's | Yorkshire | 69.81 |
| 5 | Trentham Estate | Staffordshire | 68.93 |
| 6 | Marsh Farm | Essex | 68.52 |
| 7 | Bocketts Farm | Surrey | 68.1 |
| 8 | Garson's Farm | Surrey | 56.29 |
| 9 | Hatton Country World | Warwickshire | 53.87 |
| 10 | Aldenham Country Park | Hertfordshire | 52.4 |
With the highest monthly search volume of all the locations, Cannon Hill Farm in South Yorkshire came out on top of the list of must-visit pumpkin patches, thanks to the almost 50,000 Google searches made for the venue every month. Additionally, Cannon Hill Farm also has impressive reviews and ratings across both Google (4.7/5) and TripAdvisor (4.5/5), and almost 20,000 Instagram posts dedicated to the gorgeous stately home.
The pumpkin patch is open from October 14th, tickets from £12.95 booked in advance here.
In second place was Stockeld Farm in North Yorkshire, with glowing reviews on both Google and TripAdvisor (4.5/5 across both) and almost 41,000 Google searches for the venue every month. Another picturesque patch, this farm has almost 15,000 photos linked to it on Instagram too.
The pumpkin patch is open from October 21st, tickets booked in advance here.
As the pumpkin patch with the most photos of it on Instagram (21,200), Doddington Hall in Lincolnshire is the third-most popular pumpkin patch in the UK. The popular wedding venue has exceptional reviews across both Google and TripAdvisor (4.5/5 each), and sees almost 15,000 Brits searching for the venue every month across the UK.
The pumpkin patch is open from October 1st, pay for what you pick.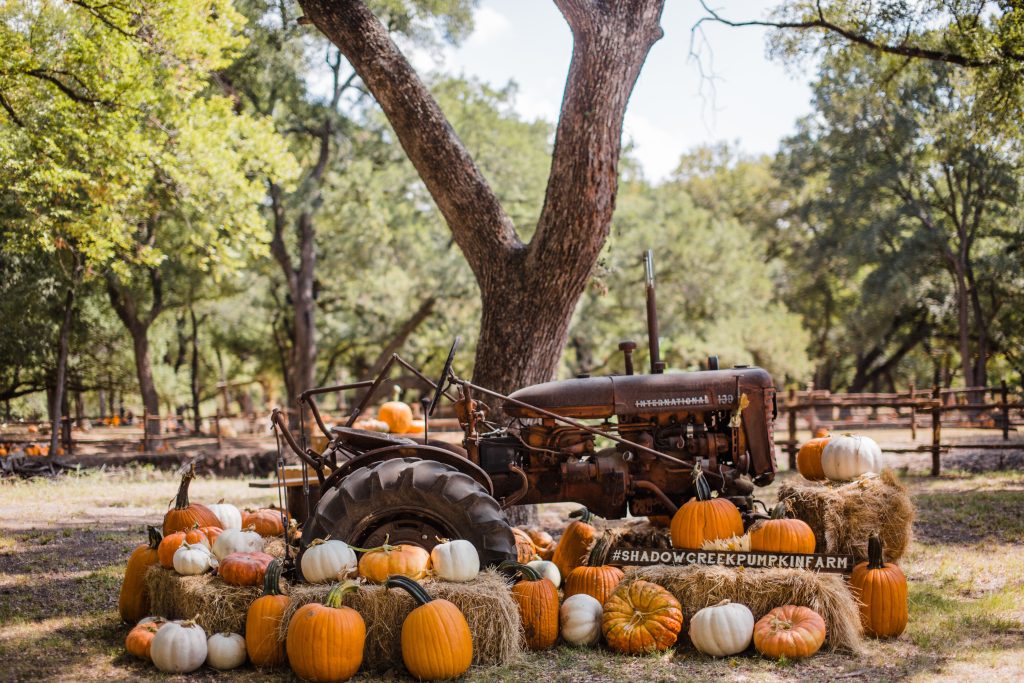 Photo by Brittney Burnett on Unsplash.
5 expert tips for your pumpkin patch proposal:
Speak to the venue: 
You should always give the venue a heads up if you're planning on proposing there. Not only will they be able to recommend the perfect spots, but they might be able to help you with a few other bits too, like decorations, or offering someone on hand to record it.
Zoe Burke, leading wedding expert and editor of Hitched.co.uk says: "With so many beautiful and highly recommended autumnal venues to propose at, you're going to be spoilt for choice this season. But, a pumpkin patch proposal is a super cute idea, especially if your partner is all about autumn – you'll absolutely guarantee a yes!
"It's always worth letting the venue know your plans – chances are, they'll be almost as excited as you are and will go above and beyond to make it a special experience for you. If you choose a venue that also hosts weddings too, it could then become a contender as your wedding venue as it will hold a special meaning for you both.
"They might also treat you to a little perk or two to celebrate your engagement!"
Be weather-ready: 
As we enter the autumn season, cold and wet weather is undoubtedly on the way. Fingers crossed you'll have a bright and beautiful day, but as you'll be outdoors it's best to prepare for any weather.
Sam Portman, wedding photographer at Peach Portman Photography says: "Set your clothing to the mood of the proposal and take into consideration where you will be; If it's rolling hills in the wind, wear smart casual walking gear, if it is next to a city landmark, go a little more elegant, but always smart casual.
"Never too done up but not so scruffy your partner will be worrying they wore their comfy pants! You can suggest to your partner they wear something smart casual without giving the game away.  Even if it is a country walk, just add on dinner after so your partner wears something they want to be seen in without giving away your intended surprise."
Pick the perfect time
Plan your proposal for when the patch opens. This will help ensure there are plenty of pumpkins without the crowds, and finding a quiet spot for your big moment should also be easier.
Dia Campolmi, E-Commerce Manager at Austen & Blake, comments: "You're guaranteed to get great photos of your 'Marry me' moment too, surrounded by crisp shades of oranges, greens and yellows, creating a perfect autumn ambience – and without too many onlookers! Plus, the natural morning light will make the diamond in your new engagement ring sparkle even brighter!
"In all the excitement of getting down on one knee, don't forget to pick some pumpkins to take home. They'll remind you of the amazing moment you've shared and carving or painting them together could be another special addition to your engagement."
Sam Portman adds: "The setting is going to be a big part of telling your story and showing your personality so make sure it does have meaning and says something about you as a couple. Make sure the location really is part of your unique story, and not somewhere generic."
Keep the ring safe
As you'll be out and about, it's important you store the ring in a pocket or pouch with a zip so it doesn't fall out, as you don't want to give the game away before the big proposal.
Dia Campolmi says: "We'd recommend the inner zipped pocket of your coat for a safe, yet easily accessible place to store the ring. Don't forget to insure the ring with a suitable policy.
"Financial protection might be the last thing on your mind during such a happy time, but it can be reassuring to know there are safeguards and protections in place should there be any mishaps, especially within sprawling pumpkin fields. If the ring doesn't quite fit on the day, invisible inlays are available, or you might want to stack the ring with one they already have to ensure it's safely in place."
Use the pumpkins as photoshoot props
The pumpkins will provide the perfect backdrop and props, so have fun when taking your photos. Why not get a close-up of your beautiful engagement ring resting on a pumpkin? You might also consider writing 'they said yes' on one of the pumpkins you pick for the ultimate engagement shot.
As you'll want lasting memories of your unique proposal, consider hiring a professional photographer or enlist the help of a friend to take pictures.
Sam Portman says, "The most important element of any proposal photography is to show true emotion. This applies to whether the camera has been hidden to capture the moment or even if it is set up shot after the event to tell the world the news.
"Show your partner's face who was proposed to, show their smile, their surprise.  Allow the audience to be excited with you. This is easy of course if you have caught the actual event but if you are creating a posed shot try not to look too posed. Just allow your true emotion to flow through and be genuine."
Featured Photo by Mark Duffel on Unsplash.