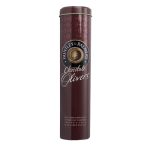 Sweet-toothed lovers of Chocolate Olivers, the favourite biscuit of the late Queen and John Lennon, may be scratching their heads about how to get hold of them in time for Christmas.  
Huntley & Palmers Chocolate Olivers are currently showing as out of stock on the website of the famous biscuit manufacturer, Huntley & Palmers.
Luckily, Ledbury food emporium, Ceci Paolo, has just stocked up on these iconic biscuits, which are a popular staple of Christmas hampers in the UK and come in a beautiful collectable tin.
Ceci Paolo owner, Patricia Harrison, says that as soon as she put them online they were being snapped up. The indulgent dark chocolate covered, slow-baked biscuits are available for £10.95 in-store and from