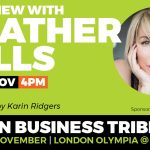 Heather Mills is joining the Vegan Business Tribe stage on Saturday.
Heather Mills has lived an extraordinary life, pushing through incredible barriers to become a hugely successful vegan entrepreneur, charity campaigner, world record holder and Paralympian. Heather is one of life's great competitors and pioneers.
Heather is also the founder of multi award winning vegan food company, VBites, which exports to over 24 countries worldwide with over 130 products in its range. In this interview with Karin Ridgers from MAD Promotions, Heather will share her secrets and advice for overcoming adversity and building a successful vegan business.
Heather will also be showcasing her vegan makeup brand Be At One.
In addition Andy Shovel, co-founder of THIS will also be speaking too.
The event, sponsored by Vegan Accountants, is returning to London as part of VegfestUK after a hugely successful premier in 2022. 
More than 20 industry experts, vegan business founders and investors will be walking the Vegan Business Tribe stage over the two days, including the founders of some of the fastest-growing vegan and plant-based brands in the UK, such as One Planet Pizza and Better Nature Tempeh who have both seen huge breakthroughs into the supermarkets and major retailers this year. (Full list noted below.)
The event is organised for a second year as a collaboration between Vegan Business Tribe and Vegan Accountants, aiming to showcase the best of the vegan business scene and give help to those looking to grow a vegan business.
The lineup also includes industry experts such as Indy Kaur, founder of Plant Futures, who will be sharing the next big trends in the vegan and plant-based sector, following her time working in plant-based strategy and food trends at Tescos. Others, such as vegan PR expert Karin Ridgers, will be delivering workshops on how to get your vegan business in the news, while a panel of vegan angel investors will be sharing how to attract investment into your company.
Organiser, and Vegan Business Tribe founder, David Pannell said,
"We had hundreds of attendees last year and we knew that event was going to be hard to top. However getting expert speakers like Andy Shovel from THIS and Chris Kong from Better Nature Tempeh to join us on stage has helped us build an unmissable rockstar lineup.
Vegan-run businesses can find it hard to get good-quality support and advice from people who understand their mission. I mean, just talking to a business advisor or your accountant as a vegan business can be a minefield if they don't share your ethics. That's why it's been so important to us to get a fully-vegan lineup this year of people who have gone out there and done it themselves, and are willing to help other vegan businesses follow in their footsteps".
The event is part of VegfestUK, who is celebrating 20 years of vegan events in the UK and are hosting a number of areas and stages as part of the weekend.
VegfestUK founder Tim Barford said,
"Vegan Business Tribe have delivered another excellent lineup this year, stunning even. It's been incredibly hard for all businesses over the last couple of years, especially our retail exhibitors who were hit so hard by the covid lockdowns. Vegan Business Tribe have been a rock for many vegan businesses to cling to."
Attendee Jason Rustage founder of Gourmet Poke adds;
"I attended the first Vegan Business Tribe Live last year with some ideas about setting up my own business. After listening to the session on how to start a vegan business, I quit my job and launched Gourmet Poke! A year on, I'm now running an award-winning food business in Bristol and am already expanding. The information I learned at the event was crucial for getting me off the ground."
Access to Vegan Business Tribe Live is included in the general ticket for VegfestUK, which gives you access to all stages and the main exhibition floor for just £12 for the weekend if booked in advance.
See veganbusinesstribe.com for more details and the link to buy a ticket.
Vegan Business Tribe Live is sponsored by Vegan Accountants
Vegan Accountants' parent company Lesser & Co. was established in 1988 as a family business by Stephen Lesser. His son Keith, has been a driving force behind growing the business and bringing vegan ethics into the organisation with Vegan Accountants.
Vegan Business Tribe is a global support community for vegan business owners, launched in 2020 by vegan business sector experts David Pannell and Lisa Fox.
Vegan Business Tribe provides online events, group support and a 'vegan business academy' through their membership website:
www.veganbusinesstribe.com
David Pannell is also the presenter of The Vegan Business Tribe Podcast.
Vegan business owners speakers include:
Andy Shovel, This!
Co-founder & co-CEO of THIS™, the UK's fastest growing food brand
Joe Hill, One Planet Pizza
Improving the planet one slice of pizza at a time, now available in Asda
Chris Kong, Better Nature
Bringing Tempeh to the masses with one of the UK's fastest growing vegan brands
Indy Kaur, Plant Futures
Strategic advisor to plant-based businesses, former Plant Based Strategy & Food Trends at Tescos
Anant Joshi, Vegan Angel Investor
Vegan entrepreneur, coach, investor and host of the PLANT CEO podcast
David Pannell, Vegan Business Tribe
VBT founder and host of The Vegan Business Tribe Podcast
Andrew Threlfall, Vegan Angel Investor
Successful vegan tech entrepreneur turned angel investor and mentor
Dan Sherrard-Smith, MotherTree
Vegan fintech start-up who raised £300k in 6 weeks
Laura Chepner, The Vegan Society
Chair of The Vegan Society's Education Network and host of the new Mainly Humanely podcast
Chloe Bullock, Materialise Interiors
Winner of PETA's vegan interior designer of the year 
Kelly Vowels, Pixal Rose
Superstar vegan stylist and activist who survived grilling on breakfast TV
Steve & Mel Ferrett, Vegan Muscle
Vegan YouTubers, street activists & vegan gym wear brand
Daniel Morgan Jones, The Aspie World
Vegan YouTuber and autism influencer with more than 200k followers and subscribers
Jess Saunders, Vegan Punks
Vegan food influencers with over 35k Instagram followers
Karin Ridgers, MAD Promotions
Radio presenter, journalist and PR expert to show you how to get your vegan business in the news
Dana Burton, Vegan Kids
Founder of the UK's only vegan kids support network and the Vegan Kids Festival
Keith Lesser, Vegan Accountants
Helping vegan companies save tax and increase profits to grow
Jai Street, Mindful Wealth
Helping vegans put their money where their heart is
Shabari Das, World Vegan Market & London Vegan Business Network
Vegan entrepreneur helping vegan businesses be seen by a global audience.
Kayleigh Nicolaou, Kakadu Creative
Founder of the 100% vegan and ethical creative agency